Events you can take part in
Get involved with the activities we are doing across Liverpool, whether a social event, volunteering for one our candidates or attending our speaker events.
If you have any ideas for an event you'd like us to do let us know on membership@liverpool.greenparty.org.uk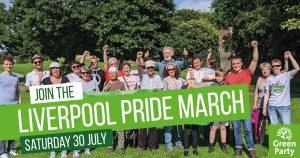 Liverpool Pride March is back and taking to the streets once again in protest, solidarity and celebration. Join the march with Green Party members across Liverpool City Region and beyond. […]
New members welcome meeting
We aim to make all our new members feel involved and as such we host monthly welcome meetings specifically for new members. We want to get to know you a bit better, understand your motivation for joining and see how we can work together to build a stronger local party.
All new members will receive an invitation to come along and chat to us online. They normally take place on the third Thursday of the month at 7pm on Zoom.
If you are unable to make these dates but still want to chat with us, please contact our Membership Officer to make alternative arrangements.