We currently have three Green Councillors in St Michaels ward: Cllr. Sarah Jennings, Cllr. Tom Crone and Cllr. Anna Key. They work incredibly hard all year round dealing with individuals' queries, working with communities and generally helping to make the St Michaels area a better place to live.
Our councillors hold regular 'surgeries' for residents to come along and raise any questions, or just to have a chat:
every Tuesday 6:30 - 7:15pm - Old Police Station, Lark lane
first Thursday of the month 10:15 - 11:00am - Sefton Park Library
fourth Saturday of the month 10:00 – 11:30am - Lark Lane Farmers' Market
However, our usual surgeries are suspended due to the pandemic, so please contact your councilklor by email or telephone:
Cllr Anna Key: anna.key@liverpool.gov.uk – 07970 501456
Cllr Tom Crone: thomas.crone@liverpool.gov.uk – 07882 026 315 @tommartincrone
Cllr Sarah Jennings: sarah.jennings@liverpool.gov.uk – 07969 257420 @GreenSarahJ
You can also follow us on Twitter - twitter.com/StMGreens
If you are unable to get to one of these sessions, you can always contact one of the councillors directly via email. See the Local Councillors page for details
Help available to deal with Covid 19
Watch Cllr Anna Key set out what help is available to support people impacted by Covid 19.
To keep up to date about Covid 19, please visit: Liverpool City Council website
To ask for help from the council, ring: 0151 233 3066.
Lines are open 8am to 6pm Monday to Friday.
Call the NHS 24/7 on 111.
Due to Covid-19 restrictions, all face to face surgeries are temporarily suspended

Cllr. Tom Crone lays out his view for the city in his bid for the City Mayor election.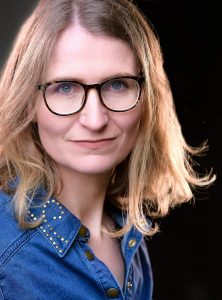 New Candidate - Steph Pitches in for St Michaels
Stephanie Pitchers will be the Green Party candidate for St Michaels in the local elections on Thursday May 6 2021. Steph says: "I am determined to work hard for all your votes so that I can carry on the fantastic work achieved by all the Green Party councillors. I love and cherish our city and promise you that I will do everything I can to make St Michaels the best place to live, work and play."
Cllr. Sarah Jennings will be leaving after 13 years of service as ward councillor. Sarah says: "It's been a pleasure and an honour to have been able to serve the people of St Michaels for the last 13 years, but I think it's time to let someone new take up the role. I have complete confidence in Steph and know she will be an amazing representative for you. She has great ideas and is passionate about making life better for everyone in Liverpool."

Steph appeals for your help
I need your help! I am Stephanie Pitchers, your Green Party candidate for St Michaels in the council elections in May.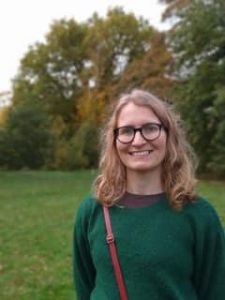 The government has just barred all doorstep campaigning, even though it says the elections will go ahead.
Doorstep campaigning clearly raises worries over the spread of Covid at this awful time, but if it is to be banned, then surely the elections should be postponed too?
Our thoughts are rightly focused on the terrible impact of the pandemic - and you can view a great film by our Green Party councillor Anna Key setting out the help available on our website.
Of course, our democracy matters too. The government ban means I can't speak directly to the voters. It means the big parties still get coverage in the national and local media, while Green Party candidates here and across the country are silenced.
It means I need your help to reach voters.
Please, next time you speak on the phone to friends and family, next time you check in with your neighbours, please mention that your Green Party councillors are here to help.
And please mention my name – Stephanie Pitchers – the Green Party candidate for St Michaels.
You can contact me here: stephanie.pitchers@gmail.com or 07775 438 568.
Thank you
Stephanie
Festival Gardens Development Update
We have been contacted by many residents understandably concerned by the sight of fencing going up around part of the wild area to the south of the Festival Gardens site, known as the Southern Grasslands. Like many people we love having this open semi-wild space available for walking and cycling and don't want to see that area developed.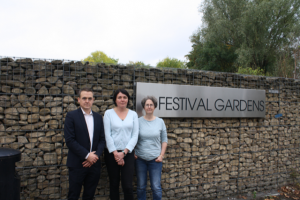 The current plans do not involve any building on the Southern Grasslands. The area to the north of Festival Gardens, towards the Britannia Pub, is the area which is currently being prepared for future development. This involves the removal of lots of material from the old landfill site to make the ground safe and stable. All the material will be sorted into inert materials like top soil and rubble, and potentially hazardous waste from the old landfill on the development site. Any hazardous waste will be taken away for disposal and the inert waste will be used within the development or moved to the fenced-off section of the Southern Grasslands. Disposing of this material locally will save costs and reduce the pollution associated with transporting it away. According to the plans, when this process is completed the Southern Grasslands will be landscaped into publicly accessible parklands, which we are pushing to be designed and managed to promote biodiversity. [Photo - Tom, Anna & Sarah on site ca. 2019]
We agree with people who like the semi-wild nature of the Southern Grasslands as they are now, but accept that on balance, this method of disposing of the waste nearby makes sense. Following the landscaping the site might offer more people the opportunity to enjoy this site thanks to improved footways. We understand that some people would prefer no development at all to take place in this area, but over the years we have accepted the principle of development within the current development zone as long as the Festival Gardens and wider grasslands remain as open spaces for public use.
We are working closely with the council and contractors during this process and have requested a virtual public meeting for residents to ask any questions they may have about the development. We will advertise this via social media if we can get agreement from the organisations involved.
Keep up to date with St Michaels ward
Help us Keep a Green Cllr. in St Michaels
The Green Party are funded by members and supporters. We don't have the backing of big business or trade unions. Help us elect Greens in Liverpool by donating to help pay for leaflets, posters, and a good social media presence.