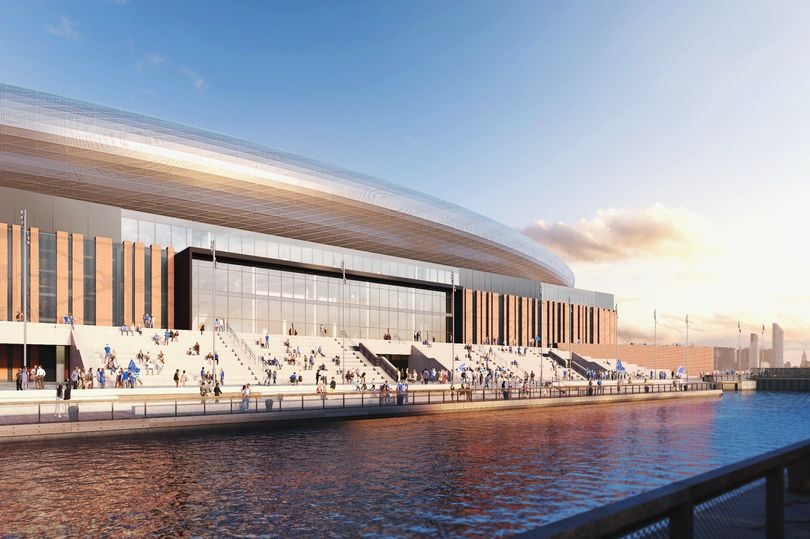 City planners will today (Tuesday February 23) be urged to insist on changes to new ground plans for Everton Football Club to bring them into line with Council promises to hit climate change targets by 2030.
Green Party Group leader Tom Crone will tell the council planning committee today that the new ground has the potential to kick-start 'regeneration in the north of the city.'
However, without more work on sustainable energy, improved transport links, and protecting the environment, the plans will damage to the city's long-term health.
Cllr Crone pointed to welcome plans for increased solar power, but queried why plans for a low-carbon district heating network were being left to others to install.
He welcomed a commitment to integrate a water feature in the new stadium design in recognition of the areas historic role as a dock, but queried why it was being used as an architectural device to keep the development 'in harmony' with Victorian dock design, rather than a serious attempt to attract back wildlife disturbed by the development.
Cllr Crone welcomed tree-planting plans but queried why no commitments had been given to further encourage biodiversity through a maintenance regime that included bat and bird-nesting boxes, reduced mowing and linked green corridors.
He welcomed encouraging words around sustainable transport options for fans and staff, but questioned why any car parking spaces were needed that did not support electric vehicles.
'The last time I cycled to a game at Goodison Park, there was nowhere to leave my bike. The new stadium has plans for 152 bike spaces – an improvement but nowhere ambitious enough for a 52,000-seater, 21st century stadium that should be world class,' he said.
Cllr Crone, who is standing to be City Mayor in May added: 'This is our chance to lead the world in engineering and construction design that also protects the city. Bramley-Moore Dock Stadium has to be the very best in can be.
'I am calling for additional conditions so that this massive project can be the pride of the city and shine like a beacon to the rest of the world.
'Better is possible. Let's be really ambitious and set the highest standard in the world for clean, green stadium construction.'
Cllr Crone called for:
• A safe and accessible pedestrian green highway from nearby Sandhills Station that offers fans an easy and enjoyable route to and from the ground and match days and the wider community and enhanced ecology
• A multi-storey cycle park modelled on Amsterdam's Central Station, with wide, safe segregated cycle lanes to the North and Centre of the city linking to the existing cycle network
• Confirmation of a low-carbon district heat network
• Strict construction noise limits to minimise wildlife disturbance
• A new waterway around the stadium designed to attract and support wildlife, including rafts for seabirds to rest nest
• A guarantee of continued investment around the ground in biodiversity.