Liverpool Green Party relies entirely on the hard work of its councillors, activists and supporters to function. Our members form the backbone of our campaigning efforts and enable us to effect positive change within the city.
LGP encourages all members to participate in local, regional and national campaigns, training and activities as much or as little as they are able. Only by working together can we create a truly sustainable, equitable society for the common good.
For members wishing to learn more about the Green Party nationally, or to access training and resources, you should find everything you need via the main members' website.
Upcoming events members can take part in: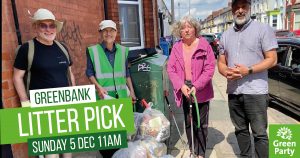 will be meeting volunteers, Liverpool Green Party members and people who love Greenbank outside Tesco on the corner of Smithdown & Greenbank Road. […]
We aim to make all our new members feel involved and as such we host monthly welcome meetings specifically for new members. We want to get to know you a bit better, understand your motivation for joining and see how we can work together to build a stronger local party.
All new members will receive an invitation to come along and chat to us online. The next few meetings will be held via the Zoom platform at 7pm on the following Thursdays:
Thursday, 18 November 2021, 7pm
Thursday, 20 January 2022, 7pm
If you are unable to make these dates but still want to chat with us, please contact our Membership Officer to make alternative arrangements.
Make sure you are keeping up to date with LGP on social media
Young Greens are the youth and student branch of the Green Party. "We aim to harness the energy and ideas of young people, and change the direction of our society towards a sustainable and just future." If you are under 30 years old and want to find out more and get involved, visit the Young Greens website.