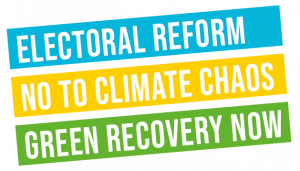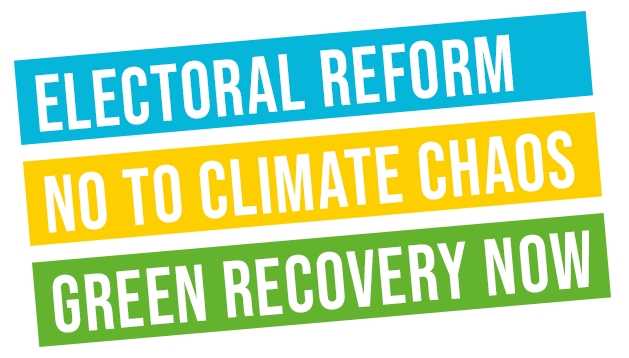 On 6th May 2021 Liverpool's residents voted in four separate elections: local municipal elections, City Mayoral and City Region Mayoral elections and a Police and Crime Commissioner election. Our candidates and activists worked hard to secure yet another increase in vote share across the city and the region for Green Party candidates.
To everyone who represented us, voted for us and campaigned for us, we say a huge and heartfelt THANK YOU!
The voter turnout for these elections was ca. 30%. That means that less than a third of registered voters went to a polling station to cast a vote or returned a ballot paper by post. We noticed at the Count that the amount of rejected ballot papers was higher than ever before.
The overall Green Party vote share for the Liverpool local elections was 14%, another improvement on the previous result in 2019. It is clear to us that people want change from 'business as usual' and they are making this known at the ballot box.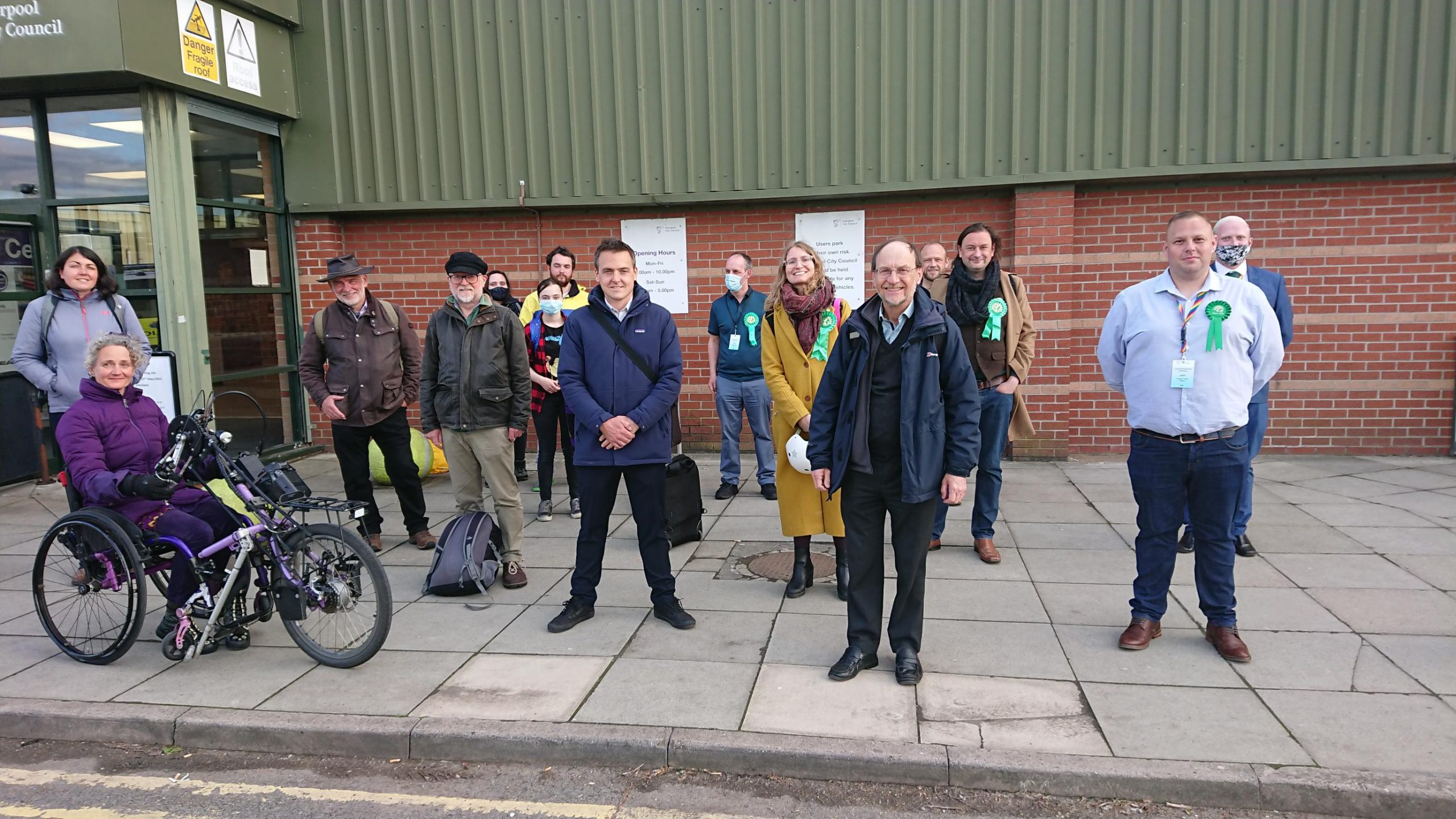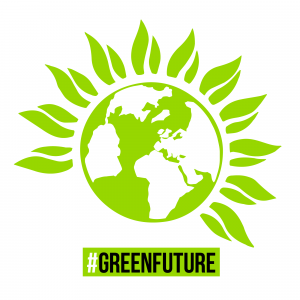 LGP fielded a full slate of local election candidates for 2021. There were the 30 usual seats, plus 1 by-election seat, up for grabs this May. We held one of three Green seats in St Michaels ward and have a newly elected councillor in Steph Pitchers.
We pride ourselves on being able to offer the electorate a spread of forward-thinking candidates who provide an alternative to the 'business as usual', short-sighted politics of the two 'main' parties. Our candidates are committed to the values of the Green Party and will work to create a better society based on our policies of social and environmental justice for all.
To ensure that your voice is heard, don't forget to register to vote. You can make a difference, both nationally and locally.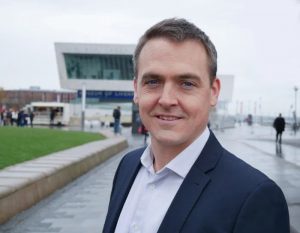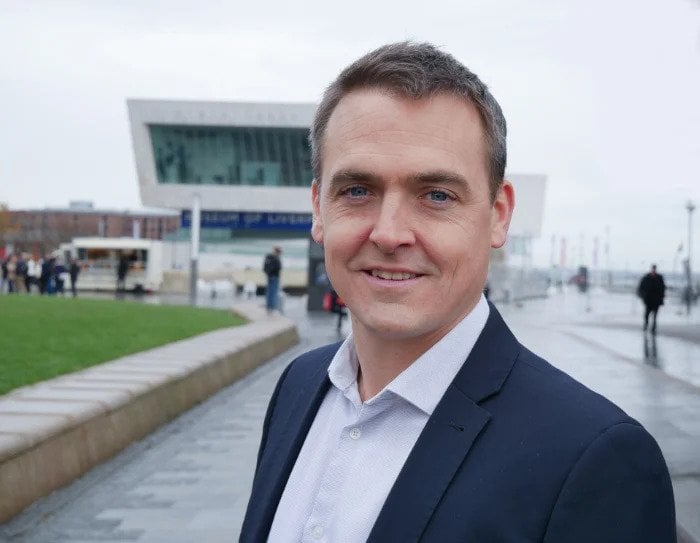 Liverpool has an elected city mayor who serves a four year term before a new election is held. Liverpool Green Party has campaigned to abolish this level of governance from the city council from day one and would instead prefer a more representative citizen's assembly style set-up which would allow greater scrutiny and democracy.
Cllr. Tom Crone was the Green Party candidate in May 2021's City Mayor election. He came 4th this time behind the Lib Dem candidate, with an Independent candidate taking 2nd place behind the Labour candidate.
Looking at the spread of second preference votes across the city, it was clear to us that the majority of voters had made Tom their 2nd choice for Mayor. However, these votes are only counted towards your tally if you happen to gain 1st or 2nd place in the initial count of first preference votes. STV is better than FPTP but ultimately, you HAVE TO vote for who you want as your first preference because depending on who you choose, your second preference vote won't be counted at all.
Follow Tom on Facebook and Twitter to keep up to date and get involved with his campaign.

Gary Cargill
Residents across the six boroughs didn't quite come out in droves to vote but those people who did use their democratic right chose overwhelmingly in favour of our Green Party candidate Gary Cargill.
Gary says: "A very big heartfelt thank you to all who came out to vote in our Liverpool City Region. We beat the Lib Dems [by over 5,000 votes] ... and... [came 3rd with over 40,000 votes and]... received the biggest growth in vote share. We can and will build from here!"
We more than doubled our vote share from the same election in 2017 and saw some amazing Green results all around the region.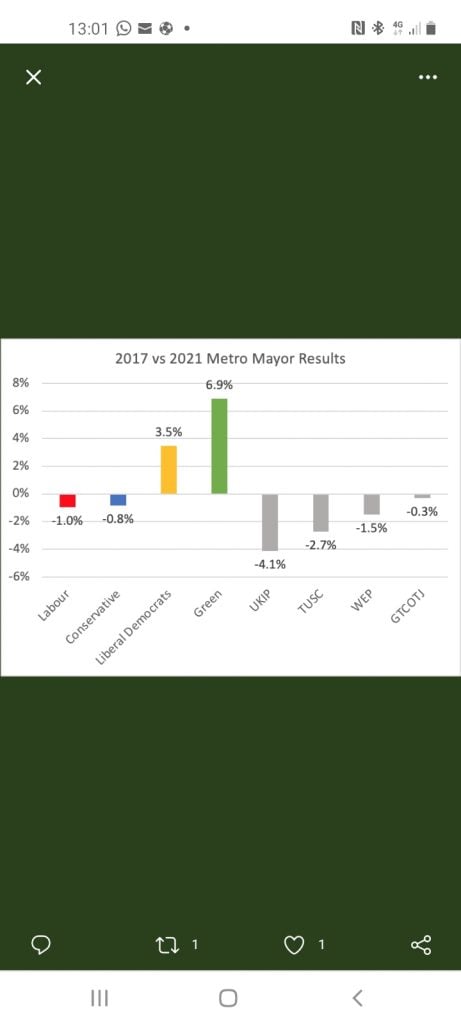 Police and Crime Commissioner Election
Police and Crime Commissioners (PCCs) were introduced by the Government to replace Police Authorities. Merseyside first voted to elect a PCC in 2012 and then again in 2016. The Green Party of England and Wales does not support this method of governance for local police authorities, we would prefer police forces to be supervised by and be accountable to elected local government. GPEW supports strong, democratic community policing committees in every neighbourhood.