Liverpool Green Party holds regular monthly meetings for Green Party members and anyone who is interested in hearing what our booked speakers have to say.
We welcome speakers from a variety of organisations who we think will provide a good opportunity for constructive discussion. Recent topics have included:
Waste, Circular Economy and Donut Economics
Urban Biodiversity
Sustainable mobility and inclusive Cycling
Improving diversity & inclusivity
Mental Health awareness
Make Votes Matter - Proportional Representation
Reparations & Atonement for Slavery
If you would like to speak or suggest a speaker for our meetings please contact membership@liverpool.greenparty.org.uk
If you are not a Liverpool Green Party member but you would like to attend our events get in touch on membership@liverpool.greenparty.org.uk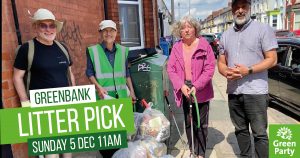 will be meeting volunteers, Liverpool Green Party members and people who love Greenbank outside Tesco on the corner of Smithdown & Greenbank Road. […]
If you have recently joined the party, attend our monthly welcome meetings for new members.